Thanks for visiting Farhorizon Studio
Creating Unique Sculptures
Please visit Farhorizon Exhibits for a more detailed look at exhibit design work
News and Updates:
New public sculpture in the Havana Gardens outdoor plaza in Aurora.
Harvests energy from the environment and displays the amassed energy as a colorful light show. Each of the 16 orbs collect small amounts of kinetic energy gathered from tiny vibrations and convert it into electrical energy. After an orb collects ~3 volts of electricity the energy is released with a splash of color. When all the orbs combine to collect ~50 volts of energy, all of the energy is released at once in a colorful display.
Tripping the Light Fantastic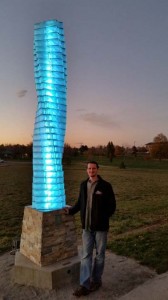 Illuminate! just moved to the Broomfield Library.
Thank you Aurora!
Winner! 1st Place – People's Choice Award Art2C
Winner! 2nd Place – Judge's Prize Art2C
Illuminate! uses simple sensors to pick up electromagnetic fluctuations that are emitted by almost everything: people, cars, cellphones, etc… The signals are then translated into color values that illuminate the 12ft tall glass spiral tower. Small snippets of chaos are constantly being observed and displayed visually. Illuminate! interacts playfully with the people and energy on Havana Street, making them an integral part of the artwork.
Proposal for sculpture installation in Fairfax County, VA
Control the lighting of the sculptures from a web page.